Dear Quilter,
Welcome to My Time! As you can see from our company motto, quilting is what we love to do! Our patterns are all sewn on paper foundations, which is fun and easy using our simple method. Each quilting pattern comes with "ready to sew" foundation sheets, plus an easy "sample block" for you to practice on first. You can get a free copy of this quilting block by clicking on the Free Block link on the left and printing that page.  We hope you enjoy browsing through our exciting line of quilting patterns and products.
Happy Stitching,
Leslie Anderson
Owner, My Time

Check out our new book, "Best House on the Block."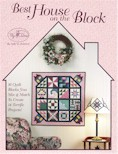 Click Here for sample pages

Check out our complete catalog of wonderful patterns!

Contact Information
Telephone
     801-964-2512
FAX
     801-963-7875
Address
     4955 South Holt Circle, Taylorsville, Utah 84118
Email
     [email protected]

Block Party

Christmas Sampler

Quilter's Garden
[ Home ] [ Quilts ] [ "Stitch Notes" Cards ] [ Clothing ] [ Books ] [ Free Block ] [ Free Block How To's ] [ About Us & Ordering ]
If you have questions about any of the items on this site, please send mail to [email protected]