This page shows all of our Quilt Patterns. Click on the small picture to see a larger image and pattern description.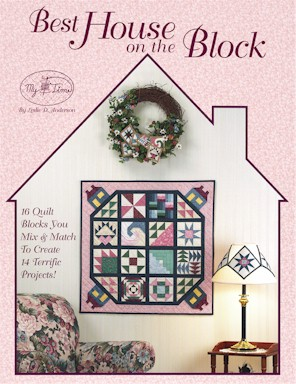 Make your home the "Best House on the Block" with this charming collection of quilted projects. The 16 quilt blocks included in this book can be used interchangeably. Each of the 14 projects can be customized to suit your own decor. This is a book you can refer to again and again, as you make your home a place that says, "A quilter lives here!"
To see examples of projects from the book, click on any of the links on the left, or any of the images below.






[ Home ] [ Santa Trees ] [ Bunny Tales ] [ Spring Tulips ] [ Amish Windmills ] [ Uncle Sam & Company ] [ Ghouls on Parade ] [ Christmas Memories ] [ Slice of Summer ] [ My Summer Garden ] [ The Nutcracker ] [ Waiting for Santa ] [ Pieceful Hearts ] [ Into The Woods ] [ All-a-Flutter ] [ Simply Amish ] [ In Bloom ] [ Warm Hands ] [ Seeds to Sew ] [ Home For the Harvest ] [ Stitched for Christmas ] [ Trim the Tree ] [ Patch Purses ]
If you have questions about any of the items on this site, please send mail to [email protected]